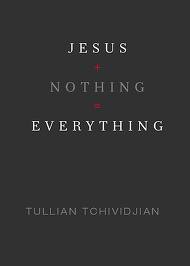 I recently had the privilege of reading Jesus+Nothing=Everything by Tullian Tchividjian. This book talks about how we too often place our hopes in Jesus and something else. This "something else" doesn't have to be bad- it could be something good like family or a job- but if this "something else"  becomes so important to us that we think that we cannot go on without  Jesus and it, then it must be rooted out.
Mr. Tchividjian repeatedly talked about how we must continually rely on Jesus as our only means of support. He said that, not only should we think that Jesus+Nothing=Everything, we should think that Everything-Jesus=Nothing. This, he said, is often the most difficult part of our Christian lives, as we come to the realization that unless we have a vibrant relationship with Jesus we have gained nothing of true value.
Mr. Tchividjian quoted C.S. Lewis, when he said:
"We are half-hearted creatures, fooling about with drink and sex and ambition when infinite joy is                          offered us, like an ignorant child who wants to go on making mud pies in a slum because he cannot                       imagine what is meant by the offer of a holiday at the sea. We are far too easily pleased."
He said that often our sin is not that of expecting too much joy and fulfillment in Jesus, but it is the opposite: we are, as C.S. Lewis said, "far too easily pleased" by the temporary pleasures of this world.
I was greatly blessed by reading this book, and would give it 5 out of 5 stars.